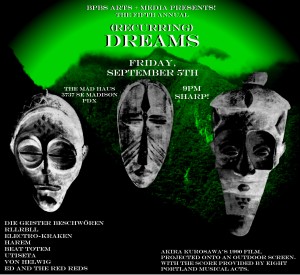 BPBS Arts+Media Presents:
(Recurring) DREAMS
Friday, September 5th
@ The Mad Haus
3737 SE Madison
PDX
9pm, sharp!
free, all ages
bring your own...
(beer, blankets, lawn chairs)
As in years past... We will project Akira Kurosawa's 1990 film DREAMS onto a large outdoor screen. The film is divided into 8 shorter sequences (each about 15 minutes long.) The individual segments will each be scored by a different local musical act. The difference, however, between this event and others similar to it, is that the bands perform behind the screen... The audience can't predict what will happen musically, and therefore, pay more attention to imagery (the movie is subtitled, so folks can still follow the plot.)
Also... Six of the eight groups performing at (Recurring) DREAMS will be playing the following day at No Fest in Saint John's! So come out for what promises to be an awesome Friday evening, and prepare yourself to enjoy a full day's worth of amazing bands at No Fest on Saturday!!!
The line-up for (Recurring) DREAMS 2014:
Dream 1... Sunshine Through the Rain (performed by: Rllrbll)
"Some people act like stars. Some people see stars. But Rllrbll I think might actually be stars- the galactic kind, giant nuclear fusion engines firing atoms and light across the vacuum of the univers. Right now, of course, the five members of Rllrbll are trapped in human form, mere dying bones, blood, and brain cells. Yet there are moments during every Rllrbll album when it seems like they cease to exist. They have transcended gravity, time, space. They have become energy."
Willamette Week
Dream 2... The Peach Orchard (performed by: Beat Totem)
"The music of Beat Totem includes everything from Garage Rock, early punk, Psychedelic Soul, and Go-Go Swing, Jazz and Folk Rock. The sound is eclectic and inspired drawing from a combination of years of musical experience and a tribal vibe."
Dream 3... The Blizzard (performed by: Electro-Kraken)
"Bass, drums, guitars, and saxophones make up the primary colors of a nuclear mess somewhere between colorful chaos and primitive bliss..."
Dream 4... The Tunnel (performed by: Harem)
"Formerly known as Mangled Bohemians, Harem is fronted by James Lee. Harem combines elements of folk and psychedelia to create a uniquely haunting, yet beautiful, sound."
Dream 5... Crows (performed by: Die Geister Beschwören)
"Die Geister Beschwören (German for "Summon the Spirits") is Oryan Peterson-Jones' exploration of field recordings and instrumentation collected from around the globe. Die Geister Beschwören materialized 15 years ago from behind the Redwood Curtain in Northern California, and has developed modestly alongside Peterson-Jones' other artistic endeavors, the psychedelic roller coaster, Datura Blues, and improvisational noise outfit, Beast, Please Be Still. While these projects satisfy a collective effort and engage in more grandiose musical pursuits, Die Geister Beschwören invokes an enthusiasm for Ethnomusicology with comradre towards the "New Weird America."
Dream 6... Mount Fuji in Red (performed by: Von Helwig)
"Von Helwig is the musical entity behind the man who brings us No Fest in St. John's each year..."
Dream 7... The Weeping Demon (performed by: Utiseta)
"Utiseta is the exploration and expression of ancestral practices and belief transmitted through the medium of music. Music has been the driving force of ritual practice for as long as we can recall, in particular the drums, voice, bells and rattles for inducing trance and conjuring spirits. Each Utiseta set is written to embody certain energetic intentions and cultivate stronger awareness to the fading traditions of our ancestors."
Dream 8... Village of the Watermills (performed by: Ed and the Red Reds)
"Country 'n North-Western" music, as Ed calls it, is about storytelling. Combining 60's psych-rock, old-time, classic folk, outlaw country and modern influences, E&TRR is a true American mutt, combining many different elements to make something wholly original."​